Logos courtesy of " the-vug.com" & "mindat.org"
---
Please click on each photo to enlarge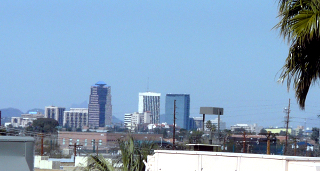 View of downtown Tucson "zoomed all the way in" from my hotel room.
Pictured above left is the scary prehistoric cave bear skeleton, contrasted on the right by the cute and cuddly polar bear.

Above is this year's new mineral species find: spherical orange crystals on leafy green matrix...just kidding!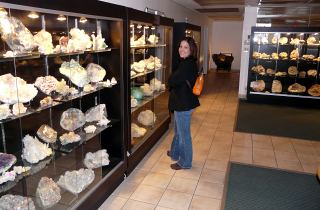 In the picture above, my lovely wife Lilia cross examines the many Zeolites in "Superb Minerals India" new Tucson store.
Below proud, proprietor, "KC" shines in front of one of the many fine display cases in his new, and permanent store front.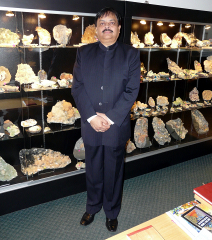 Mr. "KC" Pandey
Pictured top left and center is the daily brunch, compliments of the Tucson Convention Center...if you want to crack your teeth that is! This very unique and creative feast is a conglomerate (no pun intended) of many rocks sculpted into various food items. Click to enlarge the menu (left) to see the food = rock list.
Parting shot (top right): Just moments before reluctantly leaving the Tucson Convention Center to catch my flight home, I was quite happy to have brief moment to catch up with Jolyon of Mindat.org.
Please click on the arrow below, to see the awesome minerals for sale that I acquired from the Tucson Gem & Mineral Show 2009. Take good care and see you soon!

Go to Tucson 2009 Mineral Specimen Gallery