"Minerals of Colorado"
...was the theme of the Denver Show this year. As always, it was fun visiting with friends while making new ones, and checking out many of the incredible displays. Another great turn out, the show was always bustling with people. The featured displays shown below held some of the world's best specimens! So much to see and do, and I have taken some pictures to share with you all.
Please click on all the photos to enlarge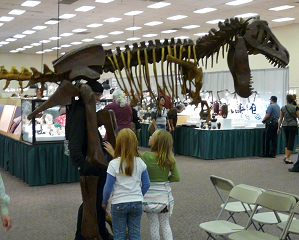 The ever popular "Bones the T-REX" never misses a show!
---
Collector's Edge Display...
It was only appropriate that Colorado's own -- Collector's Edge of Golden, Colorado, would have one of the finest displays of Colorado minerals.

Featuring many specimens of the all time favorite "Rhodochrosite" from the Sweet Home Mine.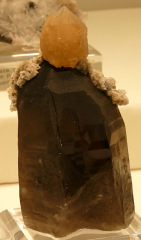 Get a load of this amazing "Quartz on Quartz!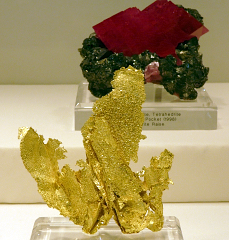 What could be better than Colorado Gold & Rhodochrosite...a winning combination!
---
Various Displays...
...Some winners!
Including one display from my adopted home state of New Mexico (pictured to the right).
---
M.A.D. Display...
Most spectators seemed "MAD-ly" in love with this amazing collection. MAD = Mineralogical Association of Dallas, Texas.
Comprised of 19 collections, this is their 13th year of attendance at the Denver Gem & Mineral Show.
---
Ralph Clark Thumbnail Collection...
Many wonderful thumbs, such as the Phosphophyllite (pictured right, and one of my favorites).
---
"The Find" Trophy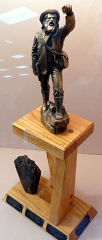 One lucky winner a year gets a small coveted plaque added to its base for a particular achievement.
---
C.E. "Shorty" Withers Trophy Winner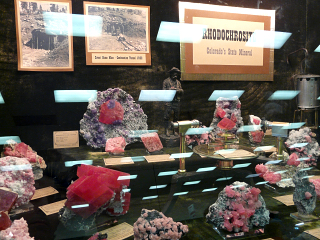 Featuring many beautiful Rhodochrosite specimens from the Collection of David L. Roter.
---
Thank you for visiting the DENVER GEM & MINERAL SHOW 2008
All photographs & original web design by Guy Russo © 2006 - 2017 • www.desertwindsgemsandminerals.com • All rights reserved