---
Grossular Garnets on matrix # TUC0901
Click on photos to enlarge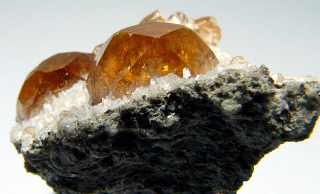 Passed on from a older mineral collection, this is truly a very fine example of the Jeffrey Mine Grossular Garnets that are becoming so very rare these days. Featuring several exquisitely formed crystals on matrix, as you can see two of the Grossular crystals are the stars of the show. They are a nice big size for the species measuring up to 1.5 cm on the largest crystal, and 1 cm for the second largest. It doesn't end there though, for the quality of the color is unbelievably beautiful!
The color as you can see in the photographs is a very desirable deep cinnamon - orange. Combined with perfectly faceted trapezohedron crystals that are so transparent, you can actually see through to the matrix of this gorgeous miniature. The Garnets lay on a covering of smaller, white to clear, Diopside crystals which in turn are laying on the majority of the Granitic matrix.
The Jeffrey Mine has produced some of the finest garnets on the planet, and now that it is closed, many of these beauties are not in circulation -- driving up the prices. It is difficult enough finding these specimens, and the very few that I have seen out there for sale pale in comparison to this gem. This delightful miniature specimen is a winner in any collection!
Dimensions in cm: 6.0 x 3.0 x 3.0
Largest crystal in cm: 1.5
JEFFREY MINE
Asbestos, Quebec, Canada
Specimen # TUC0901
$1,175
---
Elbaite var. Rubellite Tourmaline # TUC0902
Click on photos to enlarge
As always, I am very particular about obtaining only the highest quality mineral specimens to offer for sale to my customers. This exquisitely formed single Tourmaline (var. Rubellite), crystal is perhaps my most favorite acquisition from the show this year.
It displays a very rich "bubblegum pink" color, and is quite lustrous. Sprinkled throughout with some white Albite, the crystal reflects so much pink color that the Albite takes on a slightly different hue here in the photographs. Just a wonderful, damage free, jewel that weighs in at a respectable 220g, or almost 1/2 pound (0.486lb)!
Not many of these crystals come out of the pocket undamaged to begin with, and given all of the conflicts arising in that area, specimens such as this will only become much more scarce and difficult to obtain. This gorgeous small cabinet specimen displays elegantly.
Dimensions in cm: 6.5 high x 4.0 across
Largest crystal in cm: 6.5 high
Dara-i-Pech, Kunar Province
Afghanistan
Specimen # TUC0902
SOLD
---
Apophyllite, Stilbite, Calcite on matrix # TUC0903
Click on photos to enlarge
I'm a big fan of Zeolites from India, and although for the moment there seems to be plenty of them out there, I am extra picky about selecting the best quality specimens such as the one pictured above. This is a very beautiful cabinet display from India. The combination of green Apophyllite, pink Stilbite, and milky white Calcite on matrix creates a very colorful array of minerals on a matrix. Quite an interesting piece chock full with a variety crystals.
Although it is quite common to see Apophyllite and Stilbite together, what sets this piece off from most others is that there are two square Calcite crystals (as you can note in the photographs above), nestled within the other crystals.
The crystal quality and terminations are perfect throughout the specimen, and it has been trimmed very nicely. Very vibrant, sparkling, and aesthetic piece that displays beautifully.
Dimensions in cm: 14.0 x 9.0 x 7.0
Largest crystal in cm: 5.0
Jalgoan District
Marharashtra, India
Specimen # TUC0903
$495
---
Calcite on Sphalerite # TUC0904
Click on photos to enlarge
| | |
| --- | --- |
| | |
Now here's a very nifty and unusual specimen from the Elmwood mine. This top shelf miniature features a wonderful collection of over two dozen perfectly formed golden Calcite crystals scattered on shiny Sphalerite.
This specimen is so clean and lustrous...it just shines! I just found it to be so different than the larger Calcite specimens associated with this locale that it caught my eye. It is great seeing perfect smaller scalenohedral crystals -- too cute. The color is very rich, and the glassy crystals are perfectly terminated. Many have double terminations, and are quite transparent.
Talking to several of my colleagues at the Tucson show this year I have come to find out that the Elmwood mine did not reopen as expected. Unfortunately it seems that after quite a concerted effort and many millions of dollars, the attempt was abandoned. So that means more of these beauties will not be coming out in the foreseeable future.
A real gem of a miniature, and a custom base specifically designed to display the specimen optimally is included.
Dimensions in cm: 5.5 x 5.0 x 3.5
Largest crystal in cm: 1.5
Elmwood Mine
Smith County, Tennessee
Specimen # TUC0904
Custom base included
SOLD
---
Spessartine w/Albite on Muscovite # TUC0905
Click on photos to enlarge
Impressively poised, this very large Spessartine crystal is laced with Albite, and sits on a pedestal created by intricately laced books of Muscovite crystals. The lustrous Spessartine exhibits a very rich, deep red wine color, that really comes to life under display lighting.
Note in the photo to the left, the well defined hexagonal Muscovite crystals. The supports on the back side of the custom display stand (included with this specimen), really sets off this specimen to display perfectly.
Overall, this specimen is just one very beautiful, and complex sculpture! Looks great in person. Spessartine is a rarer variation of Garnet. Specimens that come out of Northern Pakistan with this crystal size are even rarer!
Dimensions in cm: 6.0h x 4.5w x 4.0d
Largest crystal in cm: 4.0
Spessartine, Albite, Muscovite
Gilgit District, Pakistan
Specimen # TUC0905
$725
Custom base included
---
Thank you for visiting the Tucson Gem & Mineral Show 2009 Mineral Gallery
All photographs & original web design by Guy Russo © 2006 - 2017 • www.desertwindsgemsandminerals.com • All rights reserved
PLEASE NOTE: All of the photographs are not to scale. Some are enlarged to give you an accurate and an in depth view of all the details for you to see. Please always refer to specimen size in all my listings for the actual size, as this is what the final price is based on. Although picture colors can vary slightly from browsers to computers, I go to great lengths in photographing all mineral specimens with complete color accuracy, without any retouching whatsoever! My photo studio lighting consists of 4800K fluorescent lighting, which simulates the wavelengths of daylight. In some cases for a different effect I have utilized regular incandescent lighting to provide a different effect. If a specimen has knowingly been repaired, I will always disclose this information to you.