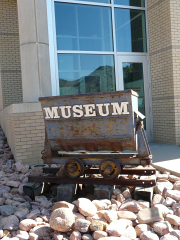 ---
For some time now I have been wanting to stop by and visit the Colorado School of Mines Museum. Finally, this year while attending the Denver Gem & Mineral Show 2008, I planned on staying an extra day just to do so.
At the time, little did I realize what kind of special treat I was in for. My brief visit to the museum and college campus on that wonderful early fall day in September, proved to be a wonderful experience soon not to be forgotten.
Upon setting foot into the entrance of the upstairs exhibit I was in awe. I mean here I was in this quaint little town called Golden, and "poof" -- I was staring into this beautifully vaulted room full of minerals! And it only got better...
Geology Museum Director Bruce Geller, greeted me upon arriving. That was the icing on the cake. Bruce's sincere enthusiasm in explaining the history of the museum, and in answering many of the questions that I had relating to the historic photographs, and exhibits was unparalleled.
This place was just crawling with the wonderful history of Colorado Mining. It was then I realized what a huge influence the Colorado School of Mines has played not only in educating generations of students, but also in preserving much of Colorado's mining history.
If you are in the area, do yourself a favor and make time to visit the very impressive Colorado School of Mines museum and campus. You will really enjoy it! Please understand that my visit there was only for a couple of hours, and there is so much more to see than I have depicted. I hope you enjoy seeing some of the highlights I am sharing with you here.
---
Please click on all photos to enlarge
| | |
| --- | --- |
| | |
| Looking at the PAST ... | ... And towards the FUTURE |
Entering the museum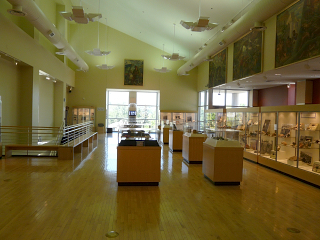 Looking into the main exhibit hall from the main entrance, I knew then this was going to be a very interesting experience.
Little did I know at the time that there were approximately 50,000 minerals, fossils, gemstones and artifacts housed here!
---
Please click on all photos to enlarge
A few of the mineral exhibits...
from Colorado and around the world
Pictured top left is a group of miners, and assorted Colorado specimens. To the right another gorgeous Rhodochrosite.
Large Pyrite from the Tucson Mine of Lake County Colorado, and a large Quartz cluster from Minas Gerais, Brazil.
Gorgeous, eye-popping, Rhodochrosite necklace, and a large "Wulfy" Wulfenite from Los Lamentos, Mexico.
Leadville display mineral display. To the right another San Juan Mountain mine (location not labeled).
---
Please click on all photos to enlarge
Amazing artifacts
One very large scale (left); Traces of alchemy (center); Beautifully painted safe (right).
Students on a field trip (left); The Norris Window (center), was taken from a razed 19th century church in Scotland.
It shows two miners/field workers receiving wisdom and guidance from an angel of the Lord; An old mineral specimen case with its contents still intact (right).
Classic posters depicting the potential uses of ores and minerals.
---
Please click on all photos to enlarge
The mines & the miners
Pictured top left are three tired miners after a big haul. To the right are Cornish Miners posing in 1891 at the Stanley Mine located at Idaho Springs, Colorado
Top left is the Amethyst & Chance mines as pictured on July 17, 1895. To the right is a nice yield (no, not egg cartons!) of Leadville SILVER bars!
It is interesting to note here that the Last Chance mine found in August of 1891 by two gentlemen from Salida, Colorado. They sold it the following November of 1891 to the very fortunate Henry Wolcott (of Denver), and Jacob Sanders of Leadville for a mere few thousand dollars (a lot of money in those days). Just one year later, this became the second richest mine in Creede!
A pneumatic drill works wonders for this miner (left photo) at the Argentine Mine, Rico, Colorado. Pictured center is the One Hundred Mine, in Silverton, Colorado.
Waiting for a bucket, high up in the mighty San Juan's is pictured to the right.
---
Please click on all photos to enlarge
Pictured above are more views in the museum. To the left, looking back towards the main entrance.
What a beautiful view of the Golden hills (center). Plenty more to see in the lower level (right).
The very pleasant neighbor"HOOD" surrounding the campus.
---
Would you like this Rhodochrosite specimen?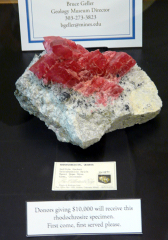 Please click on photo to enlarge
This is (pending availability) one of the several beautiful Rhodochrosite specimens (thanks to Bryan & Kathryn Lees), available for a specified donation. Truly a win/win situation. You make a donation to the Colorado School of Mines, and receive such a beautiful gift in return!
Available first come first served only, so if you are interested please contact:
Bruce Geller
Geology Museum Director
303.273.3823
bgeller@mines.edu
---
Parting shot...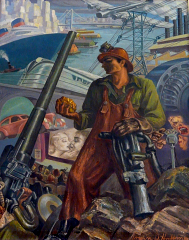 Please click on photo to enlarge
During my visit I was talking with Bruce Keller the museum curator, on how amazing it is to think that most things manufactured on our planet come from minerals. He immediately pointed to the above painting which indeed exemplifies this fact!
Of the several oil paintings by Irwin David Hoffman featured in the museum, this one sums it all up. As you can see in its theme, many things -- better or for worse, are manufactured from one type of mineral or another! I sincerely hope that you enjoyed this presentation!
Thank you for visiting the COLORADO SCHOOL of MINES
All photographs & original web design by Guy Russo © 2006 - 2017 • www.desertwindsgemsandminerals.com • All rights reserved