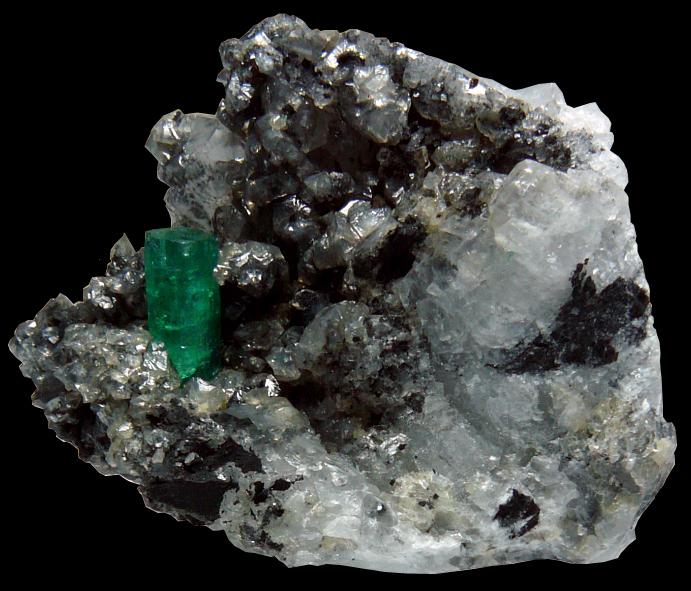 Beryl var. Emerald on Calcite
The allure of gem Emeralds has been with us for centuries. There is no doubt how seductive these beauties of the Beryl family are. Needless to say, these gems are especially attractive when sitting upright, within the grasp of a matrix.
With striking contrast, this gorgeous single crystal juts out of a greyish crystallized Calcite matrix. This Emerald is a perfectly formed and terminated glassy, hexagonal crystal. The color is top shelf: deep and lustrous vibrant green. The crystal size measures in at a respectable size of 17mm high, and 8mm wide. It was mined from a classic world location: Colombia, South America...probably the world's finest producers of Emeralds.
Displaying beutifully in a custom made acrylic base, this magnificent treasure is ready to be placed into the cabinet of any discerning collector. I have included several other photographs of this outstanding small cabinet specimen below for your viewing pleasure.
Beryl var. Emerald on Calcite #DEN08EMER
Click on photos to enlarge
Dimensions in cm: 8.0 x 7.5 x 4.0
Crystal size in cm: 1.7h x 0.8w
La Pita Mine
Boyacá Department
Colombia, South America
Specimen # DEN08EM
$6,250
Custom Base Included
Sold
---
Thank you for visiting the EMERALD GALLERY
All photographs & original web design by Guy Russo © 2006 - 2017 • www.desertwindsgemsandminerals.com • All rights reserved
PLEASE NOTE: All of the photographs are not to scale. Some are enlarged to give you an accurate and an in depth view of all the details for you to see. Please always refer to specimen size in all my listings for the actual size, as this is what the final price is based on. Although picture colors can vary slightly from browsers to computers, I go to great lengths in photographing all mineral specimens with complete color accuracy, without any retouching whatsoever! My photo studio lighting consists of 4800K fluorescent lighting, which simulates the wavelengths of daylight. In some cases for a different effect I have utilized regular incandescent lighting to provide a different effect. If a specimen has knowingly been repaired, I will always disclose this information to you.