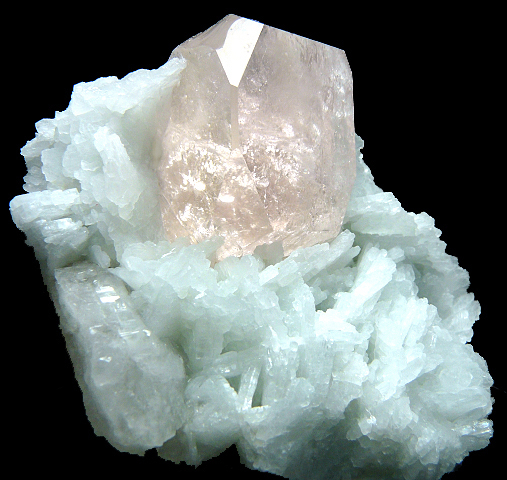 Beryl var. Morganite on Albite var. Cleavelandite
This is truly one of the finer examples of Morganite on Cleavelandite that I have seen at any of the recent mineral shows, or on the Internet for that matter. I am very proud to offer this outstanding specimen for sale here. Although this one of a kind beauty already looked mighty fine when I first acquired it, so that it may "shine" to its full potential, I had it professionally trimmed and cleaned to perfection. Finally, the finishing touch was a custom mineral base made to order so it could poise in its full glory!
Now, worthy of looking pretty in any museum, this magnificent treasure is ready to be displayed in the cabinet of any discerning collector! I acquired this beauty from a colleague who is well established in the world of mineral collecting, and it is formerly from the collection of the renowned mineral collector Dr. Eugene Meieran. Cradled real pretty on a matrix of snow white blades of crystallized Cleavelandite, this striking hexagonal Morganite crystal by itself measures in at: 5 cm. high; 2.7 cm wide; and 3.5 cm deep! Gorgeous pink color with perfect facets, are accented by the fact that it is quite gemmy -- with super clear transparency.
The Morganite crystal itself refracts light wildly while photographing, hence the white glowing spots as seen in the photographs. You can actually see the Cleavelandite matrix behind the crystal. And please believe me when I say that this specimen is that much better viewing in person! Still, I have gone to great lengths in photographing to give you the best representations possible. The overall crystal is perfectly faceted throughout on all sides with the exception of just the very top/backside which has more of a scalloped face -- but this is not damage (please see lower left photo). There is minor "etching" on the front facet (not at all evident without catching the light at the perfect angle), which is not detracting while it displays beautifully in its custom display base.
Please enjoy looking at the other photographs listed below that I have taken of this specimen from different angles. I think you well agree that this cabinet sized specimen scores very high in overall quality, balance, symmetry, and pure aesthetics. With all the upheaval in Afghanistan these days, one can only wonder: When will any more beauties especially of this caliber be available to collectors again from this locale? One of the finer specimens to come into my life!
Beryl var. "Pink" Morganite on Albite var. Cleavelandite #DEN08MOR
EX - Dr. Eugene Meieran Collection
Click on photos to enlarge
Dimensions in cm: 8.0 x 8.0 x 7.0
Crystal size in cm: 5.0 x 2.7 x 3.5
Pech, Kunar Province
Afghanistan
Ex: Dr. Eugene Meieran
Specimen # DEN08MOR
$14,725
Custom Base Included
---
Elbaite var. Rubellite Tourmaline # TUC0902
Click on photos to enlarge
As always, I am very particular about obtaining only the highest quality mineral specimens to offer for sale to my customers. This exquisitely formed single Rubellite Tourmaline crystal is perhaps my most favorite acquisition from the show this year.
It displays a very rich "bubblegum pink" color, and is quite lustrous. Sprinkled throughout with some white Albite, the crystal reflects so much pink color that the Albite takes on a slightly different hue here in the photographs. Just a wonderful, damage free, jewel that weighs in at a respectable 220g, or almost 1/2 pound (0.486lb)!
Not many of these crystals come out of the pocket undamaged to begin with, and given all of the conflicts arising in that area, specimens such as this will only become much more scarce and difficult to obtain. This gorgeous small cabinet specimen displays elegantly.
Dimensions in cm: 6.5 high x 4.0 across
Largest crystal in cm: 6.5 high
Dara-i-Pech, Kunar Province
Afghanistan
Specimen # TUC0902
SOLD
---
Elbaite var. Rubellite Tourmaline on Albite var. Cleavelandite # TUC0818
Click on photos to enlarge
Simply, superbly, awesome! Not just by design and in color, but the quality is tops! The perfectly formed and terminated glassy Rubellite Tourmaline crystal has the most spectacular pink color to it. A exceptional sparkling gem indeed, accented on a matrix of Feldspar and Albite var. Clevelandite. I just cannot keep my eyes of this one. One can only wonder how many more beauties like this "might" come out of Afghanistan anytime in the near future? This one-of-a-kind beauty displays marvelously, and it is guaranteed to keep you spellbound!
Dimensions in cm: 14.5 x 7.0 x 4.0
Tourmaline crystal in cm: 2.0 h x 1.0 w
Paprok, Nuristan Province
(Nurestan; Nooristan), Afghanistan
Specimen # TUC0818
$ 3,910
---
Thank you for visiting the AFGHANISTAN GALLERY
All photographs & original web design by Guy Russo © 2006 - 2017 • www.desertwindsgemsandminerals.com • All rights reserved
PLEASE NOTE: All of the photographs are not to scale. Some are enlarged to give you an accurate and an in depth view of all the details for you to see. Please always refer to specimen size in all my listings for the actual size, as this is what the final price is based on. Although picture colors can vary slightly from browsers to computers, I go to great lengths in photographing all mineral specimens with complete color accuracy, without any retouching whatsoever! My photo studio lighting consists of 4800K fluorescent lighting, which simulates the wavelengths of daylight. In some cases for a different effect I have utilized regular incandescent lighting to provide a different effect. If a specimen has knowingly been repaired, I will always disclose this information to you.