---
Awesome Plate of: Rhodochrosite,Tetrahedrite, Quartz, and Chalcopyrite
---
Featuring many beautifully well formed rhombs (over 20 crystals!!!) sprinkled throughout a contrasting matrix of Tetrahedrite; Quartz crystal needles; and Chalcopyrite crystals; This fabulous cabinet beauty is my very best Rhodochrosite specimen, that I am finally offering for sale. I was very fortunate to acquire this piece several years ago from a good friend, and colleague that procured it directly from the mine owner Bryan Lees.
You may already know that quality Rhodochrosite specimens from Sweet Home Mine are increasingly difficult to find, and the prices for the top pieces have escalated significantly since the closing of the historical Sweet Home Mine back in October of 2004.
The colors of the larger rhombs on this large plate are a gorgeous classic Sweet Home Mine "rhodo-red". They are quite gemmy, and wonderfully contrasted on a colorful matrix. Revered by mineral collectors around the world, these Sweet Home Mine Rhodochrosite are perhaps my all time favorite mineral. Truly a rare beauty from a legendary locality, and a must have for any serious gem & mineral collector.
Very desirable & aesthetic specimen !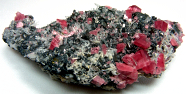 Please click on photo to enlarge
---
Dimensions in cm: 13.5 x 7.5 x 3.8
Largest crystal in cm: 1.2 across
Pincushion II Pocket, Fluorite Raise
Sweet Home Mine, Alma, Park County
Colorado, USA